Pre-pandemic hospitality was the third-largest industry in the private sector and was estimated to contribute £133.5bn to national gross domestic product and employed over 3.2m people — about 10 per cent of the workforce — according to UK Hospitality. Allowing the sector to recruit the staff it needs will result in higher turnover, more jobs and the resultant taxes returning to pre-pandemic levels more quickly.
Letters to the Financial Times, co-signed by Sir Rocco Forte, 27/09/2021
The Knight of the Order of Luxury Hospitality – 25 Years 'Forte'
 2022 – A very eventful year for the history of Britain and for the rest of the world. The year of the Platinum Jubilee where Queen Elizabeth II celebrated seventy years on the throne. The year in which, speaking remotely before the UK parliament, Ukrainian President Volodymyr Zelenskyy recalled the famous words of Sir Winston Churchill "We will not fail. We will fight till the end." The year of the cryptocurrency and financial (S&P 500) bear market clearing the path to a possible future economic recession.
The year in which entrerpreneur Sir Rocco Forte and his designer sister Olga Polizzi toast (with a 1841 Veuve Clicquot, no doubt), their 25th anniversary in the modern luxury world of the hospitality industry. 
The two descend from a "Royal" linage of generations of entrepreneurs, hoteliers and memory-makers – the Forte Family.
25 years ago, a revolutionary vision for a brand-new approach to hospitality.
One that would feature chic, design-driven, and culturally enchanting hotels, all distinguished by a special fusion of European flare and historical charm.
With hotels and restaurants in ten premium locations across Europe, but most of them set in the magnificent Italian landscape, including Agrigento, Rome, Florence, St. Petersburg and, Edinburgh, Sir Rocco Forte has created one Europe's greatest luxury hotel Empires. All in less than ten years.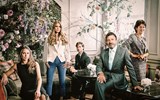 THE ITALIAN KNIGHT – SIR ROCCO FORTE AND HIS FATHER
A Strong Family History – The Fortes 
You've Got to See What Rivals are Doing, and Do it Better.
Sir Rocco Forte
Success runs in the Forte Family, but not without hiccups.
Rocco's father, Lord Charles Forte, Baron Forte, was an Italian-born, Scottish businessman and hotelier. Charles Carmine Forte was born in the little town of Casalattico (Frosinone), southernmost province of Lazio. The town is part of a bigger district (frazione) that was once called Mortale, which was later renamed Monforte in honour of the Forte Family. A great honour for a great man that never seemed to forget his humble origins, and always kept his Italian pride high. So much so that his kids, including Rocco, the somewhat natural heir to the majestic Forte Empire, still consider Italy a place to call home.
While in turn-of-the-century Italy the Futurist Filippo Tommaso Marinetti was writing his Manifesto, and in London's Oxford Street Selfridges was opening its first luxury department store, Carmine Forte was coming into a world that he would later revolutionise - from dishwasher to restaurant manager to one of the most influential immigrants in the UK. Tens of hotels, thousands of employees, pride for all his achievements, a dream of owning The Savoy, and sincere admiration (and plenty of donations) for the Conservative Party and its strongest leader, the Iron Lady Margaret Thatcher.
He was the Italian that "conquered" England's aristocracy.
Lord Forte, after a life of work and expansion, upon his death, in 2007, was worth over 80 million dollars.
Charles handed over the presidency of the Forte business to his son, Rocco in 1993. The business was later taken over by Granada for £3.8 billion.
Rocco, a life lived in excellence. Still going strong at 77 years of age, has big plans for expanding the Forte Group even more.
Born in the quaint coastal town of Bournemouth, England in 1945 from Lord Forte and his Wife Irene (of Venetian origins), Rocco is the first of six kids. Educated at Pembroke College, Oxford were after graduating in modern languages, he qualified as a Chartered Accountant in the late 1960s.
Some twenty years later, in 1986 at the age of 41, Rocco married 21-year old Lady Aliai Giovanna Maria Ricci, in a sumptuous ceremony in Rome's Basilica di Santa Maria in Ara Coeli, and later started his own family. He has three kids - Lydia, Irene and, Charles, all involved in the Family business too – "The European Hiltons".
Ten years go by and Rocco, in 1996 starts establishing himself as a British Hotelier becoming more and more powerful and never stopping expanding his domain. At the age of 53, and with an initial investment of £50 million, (25 of his personal assets, 5 of his sister Olga's and 20 put in by the father) he was opening, but not without struggles, his first hotel – the Balmoral in Edinburgh. One luxury property became two, and two became 14 and counting. Just as £25 million turned into a £450 million net worth fortune for the Fortes.
An Order of the Empire, Empire - "Creating a strong family business starts with passion and a dream." – Sir Rocco Forte
Like his father before him, Rocco too was honoured with the utmost title of Knight of the British Empire. Charles, the Prince of Wales, knighted the second-generation Italian in December 1994 for his notable contributions to the UK tourist sector.
Later, in March 2005 Sir Rocco became "Cavaliere." He was awarded the highest Italian honour, the Gran Croce dell'Ordine al Merito della Republica Italiana. Again, for his contributions to growing Italy's hospitality scene and for his entrepreneurial achievements and close ties with the 'Bel Paese.'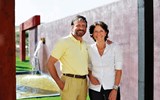 CULTURE AND HISTORY IN THE FINEST LOCATIONS – THE EUROPEAN GRAND FORTE TOUR
Rocco Forte's Hotels are connecting (wealthy) individuals with historical lands of enchanting landscapes while offering great luxury, tailored relaxation, and all the finest food in what they refer to as "eco-architecture".
Currently, Rocco Forte Hotels has a portfolio of 11 Hotels all located in the finest and most historical cities of the continent. The Astoria in St. Petersburg, Brown's - the oldest hotel in London, the Hotel de Russie in Italy's Capital city Rome, and Rocco's personal Favourite - the Verdura Resort in Agrigento, Sicily. The Resort, named after the family who once owned the land – Famiglia Verdura, sees its interiors principally inspired by the novel "Il Gattopardo," Giuseppe Tomasi di Lampedusa's (cousin of the Duke of Verdura) finest work.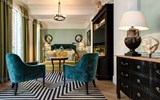 CONSERVATIVISM IN THE AGE OF LIBERALISM
After a genertational history of Conservativism, and after having been one of the strongest supporters of the Boris Jonhson-led Tory party (with donations as high as £100,000 and victory party hosting), Sir Rocco has recently moved away from his once-strong right-wing ideologies. The reason? Taxes (and other polices).
The hotelier, one Britain's best known businessmen and fervent brexit-eur, has not hidden his disappointment at how Johnson and Sunak are managing the post-pandemic situation and how the increase in taxes will affect the country's economy negatively calling for fellow businessmen to unite and boicott "ridiculous" government regulations. Now that Boris J has stepped down as Prime Minister and Rishi Sunak is in the run to take his place, we cannot help but wonder how Rocco Forte is feeling...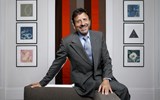 The two year-long pandemic has left Rocco and the Forte Group with estimated losses of over $100 million. With openings planned for new and marvellous destinations such as Prague, Marrakech, Palermo, Milano and Abu Dhabi in the coming years, Rocco Forte's estate portfolio grow to a staggering 15 locations worldwide.
The post-pandemic future of the hospitality business and of the Rocco Forte Hotels is stronger than ever.